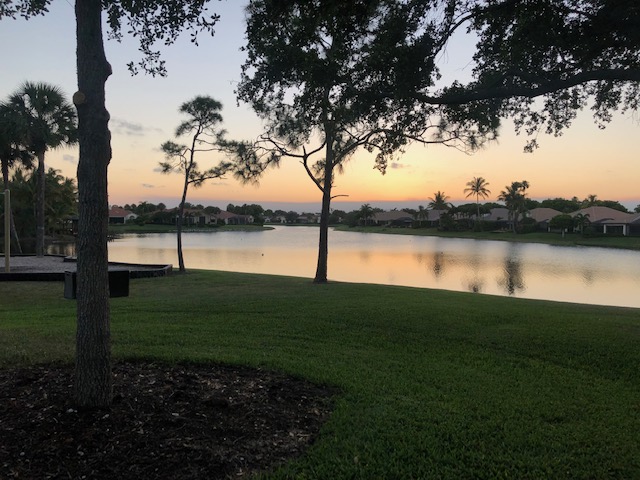 Ok, for those of us who live in Florida, it's pretty much summer all year long here, but June does usher in a new kind of heat, and we all respond with, you know its summer now!  I recently moved, not far really, just a mile inland from where I used to live.  I moved away from the ocean, and the ocean breezes, into a large community that offers miles of tree-lined roads and sidewalks and little waterways that meander throughout the whole community.
The new neighborhood
I realized when I moved in and finally got settled, that I felt such a sense of calm. One that I hadn't realized in quite some time. While walking Aimee (my English Crème Golden) one night around 8 pm, the air was unusually still, dead still, the heat from the day slowly fading. A quiet hung in the air, one I had forgotten about since living by the ocean (and road) there was always noise. But what I found that night were things I had forgotten that I missed.
Aimee enjoying exploring the new "territory"
It took me a bit to figure out why, when I realized it was because the community reminded me of my childhood, large canopied oak and locust trees offering shade, birds singing, cicadas beginning their songs in the early evening hours, squirrels playing up and down the trees, or darting from bush to bush; egrets, cranes and ducks all around. The smells, oh my gosh the smells – jasmine and honeysuckle pungent in the air, drawing me in for a closer sniff. I closed my eyes and savored those wonderful smells.
These were the sounds and smells of Summer. My childhood.
The only thing missing is the lightning bugs, then I think this community would be complete!
My childhood memories
I've lived by the water most of my life. I grew up on a creek just off the Chesapeake Bay. My Dad moving us from Baltimore when I was only 3 so that we could grow up by the water. A love he held as well. I had the only bedroom window in the house that faced the water. Lucky me! We didn't have air conditioning back when I was young, so on those hot summer nights when I couldn't sleep, I would sit on the side of my bed and lean into my window, nose pressed against the screen trying to feel some breeze, staring at the moonlight wavering on the water, listening to all the sounds of the nights, taking in the smells of the salt water and the honeysuckle.
Until moving here I forgotten about all these other wonderful sounds and smells that were out there. Those things that reminded me of my childhood and suddenly gave me a sense of being "home again".
I look forward to continuing to explore my new home and finding even more things that are the sounds of smells of Summer.